Taking place in Seattle, PAX West hosts dedicated TRPG gaming, panels, and the annual D&D Live Game featuring Acquisitions Inc.
Event Details:
Dates: Aug 31-Sep 3, 2018
Location:
Washington State Convention Center
705 Pike St
Seattle, WA 98101
Event Website
---
D&D Gaming:
Fri-Mon
D&D Adventurers League: Vormestrand's Scroll
The legendary brewer, Vormestrand, has disappeared in pursuit of creating the finest beer Faerûn has ever tasted. While some believe that his rival, Zythos, may have had a role in his disappearance, the only clue is the recipe itself—something that Zythos really wants to get his hands on. It's up to you to safeguard the recipe and finish the brewer's work!
---
D&D Liveplay:
Thu, Aug 30: 7:00 PM PDT
Double D20 Adventure Extravaganza
Dungeons & Dragons live! Two spectacular shows in one night—just in time to kick off PAX! For one night only, the d20 Dames and Dungeons & Drag Queens roll the dice and improvise their way through two original adventures, played onstage before a live audience! It's a night of real D&D—challenging encounters, thrilling combat, and hilarious misadventure. Come to one or both of these interconnected shows, with discount double-feature tickets available!
---
Sat, Sep 1: 9:30-10:30 PM PDT
Queens of Adventure LIVE: PAX West Edition
Dungeons & Dragons and drag queens come together in Seattle's hit comedy-show-turned-podcast! Drag queens Harlotte O'Scara, Fraya Love, Arson Nicki, and Butylene O'Kipple play an original Dungeons & Dragons adventure for a live audience. Come see them roll the dice in a special one-hour game that blends death drops and death saves!
---
Sun, Sep 2: 6:30-9:30 PM PDT
Acquisitions Incorporated
You inquire, we acquire. The Acq Inc team's quest for riches, fame and glory continues, under the watchful eye of master Dungeon Master Chris Perkins. Join Omin Dran (Jerry Holkins), Jim Darkmagic (Mike Krahulik), Strix (Holly Conrad), and Viari (Patrick Rothfuss) as they continue along their adventure. At least, not all at the same time. Mostly.
Watch on Twitch:
---
D&D and Related Panels:
Fri, Aug 31: 2:30-3:30 PM PDT
Collaborative Storytelling from Tabletop to Video Game, and Beyond
An adventuring party of Cryptic Studios developers discuss brining the Forgotten Realms to life in the free-to-play MMORPG Neverwinter. They will be joined by special guests who have insight on storytelling in the Forgotten Realms (and beyond). This includes John Feil from Wizards of the Coast as well as special guests Jerry Holkins and Amy Falcone. The panel will focus on story creation and game development; what it takes to scope projects collaboratively and how to blend the narrative styles with gameplay systems. A brief Q&A will follow the panel where fans of Dungeons & Dungeons will have a chance to learn more about the upcoming module and the effort behind its creation.
---
Fri, Aug 31: 3:30-4:30 PM PDT
Playing to the (Virtual) Crowd: Streaming Tabletop RPGs
It's way more than just roleplaying with a camera! Join veteran Twitch broadcasters for a discussion of what it takes to stream successful tabletop content. Learn about games that work, habits to break, and how to give RPG fans something they've never seen before!
---
Fri, Aug 31: 7:00-8:00 PM PDT
'Ask the Wafflecrew Anything' Panel
Celebrated Dungeon Master Chris Perkins streams weekly with the Wafflecrew (Anna Prosser Robinson, Holly "CommanderHolly" Conrad, Jared "ProJared" Knaubenbauer, and Nathan "NateWantsToBattle" Sharp) in Dungeons & Dragons' official livestream show: Dice, Camera, Action! Need tips from a pro DM? Have questions about streaming RPGs? Wanna know if your fave ship really sails? For the first time, ask any or ALL members of the cast at this anything-goes Q&A!
---
Sat, Sep 1: 1:00-2:00 PM PDT
Gather Your Party for A Beamdog Panel
Beamdog has brought beloved roleplaying games like Baldur's Gate, Neverwinter Nights, and other classic Dungeons & Dragons titles back to life as Enhanced Editions, and now we're at PAX West to announce what's to come for our existing titles and beyond!
---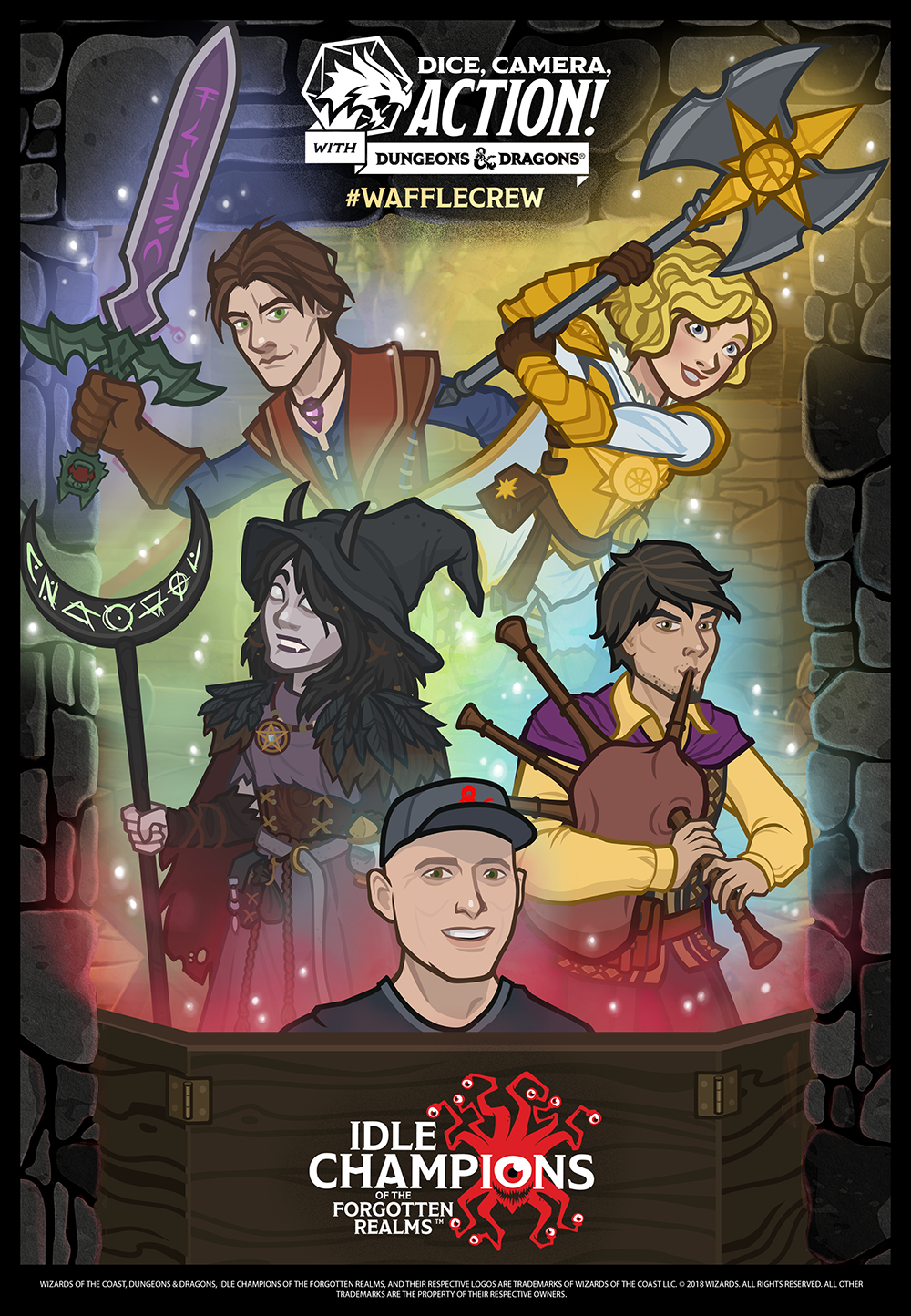 Sat, Sep 1: 3:00 PM PDT
Dice, Camera, Action!/Idle Champions Signings
The entire Dice, Camera, Action! cast will have two signings at the Table Titans booth (Saturday 3 PM, and Sunday 12 PM). Idle Champions of the Forgotten Realms even created a special poster for the event!
---
Sat, Sep 1: 5:30-6:30 PM PDT
Acq Inc: The 'C' Team Q&A
Join Ryan Hartman (Donaar Blitzen), Kris Straub (K'thriss Drowb), Amy Falcone (Walnut Dankgrass), and Kate Welch (Rosie Beestinger) from Acquisitions Incorporated: The "C" Team for a live Q&A. Do you have questions? Do they have answers? Who can say. If you miss this live panel don't forget you can always catch them on twitch.tv/penny-arcade every Wednesday at 4:00pm PST! Feed that horse!
---
Sun, Sep 2: 12:00 PM PDT
Dice, Camera, Action!/Idle Champions Signings
The entire Dice, Camera, Action! cast will have two signings at the Table Titans booth (Saturday 3 PM, and Sunday 12 PM). Idle Champions of the Forgotten Realms even created a special poster for the event!
---
Sun, Sep 2: 3:00-4:00 PM PDT
Game Master Academy: Start Running Tabletop RPGs
What's it take to run an amazing tabletop RPG adventure? Just you! Leave your anxieties behind and get all your introductory RPG questions answered by the designers and game masters behind Dungeons & Dragons, Blue Rose, Critical Role's Tal'Dorei, and more!
---
Mon, Sep 3: 11:00 AM-12:00 PM PDT
Am I Playing a Role: Identity Exploration and RPGs
There is growing interest in the use of RPGs as a therapeutic vehicle, but fans have said for decades that RPGs help them become the people that they are. Why do we play the characters we choose? Is it social practice, fantasy fulfillment, or something else? Join Take This and our panel of elite RPG creators, streamers, and professionals as we discuss identity exploration through player characters.
---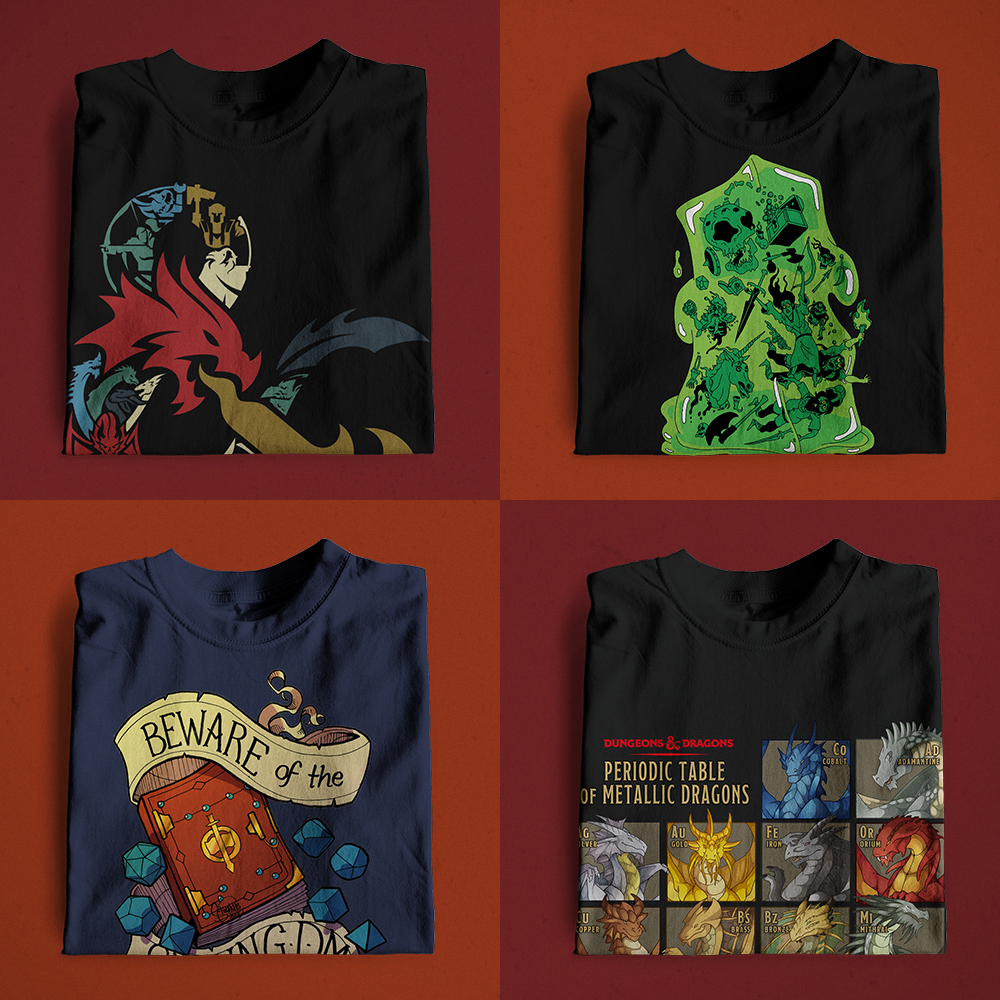 D&D Partners:
Fri-Mon
For Fans By Fans
Creating a community that bridges the gap between fans, artists, and the worlds that inspire them. Look for For Fans By Fans at PAX West—Booth #7411 .
---
Fri-Mon
Scott Kurtz and Idle Champions of the Forgotten Realms
The Idle Champions team will be a guest at the Table Titans booth at PAX West. They'll be demoing the game, creating live art with their Lead Artist and Scott, plus Scott will be signing Binwin postcards for fans throughout the entire show.
---
Fri-Mon
AFK/Take This and Strix/Holly
On Aug 24th, Idle Champions launched a new DLC featuring Strix's Cranium Rat as a Familiar. All proceeds for the DLC for the first 12 days will be donated to Take This to fund AFK Rooms at PAX events, with Codename Entertainment as a co-sponsor. There will be some Idle Champions coloring sheets featuring DCA, Binwin, and other characters to help relax in the space.
---
D&D Participants Include: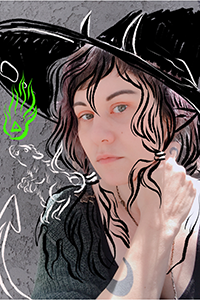 Commander Holly
Holly Conrad is an artist and storyteller who writes, streams, creates, and makes YouTube videos. On her journey here she got a degree from the University of Santa Barbara in Medieval History, and studied at the University of Edinburgh in Scotland specializing in folk magic and Medieval literature. These days she spends time rescuing pigeons, streaming, and playing Dungeons & Dragons. Holly plays Strix, a tiefling sorcerer and trash witch, on Dice, Camera, Action, the official Wizards of the Coast D&D show.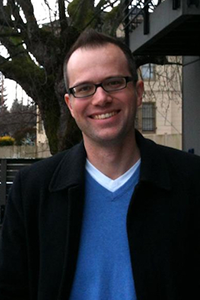 Jeremy Crawford
Jeremy Crawford is the lead rules designer of Dungeons & Dragons, in addition to being the game's managing editor. He led design of the Player's Handbook and co-led design of a variety of other D&D books, including the Dungeon Master's Guide, Xanathar's Guide to Everything, and Mordenkainen's Tome of Foes. Before coming to Wizards of the Coast, he wrote for the games Blue Rose, Warhammer Fantasy Roleplay, and Mutants & Masterminds.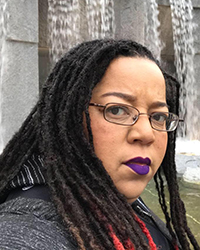 Tanya DePass
Tanya DePass is the Founder and Director of I Need Diverse Games, a not-for-profit foundation based in Chicago. She's part of the Spawn on Me podcast, the programming coordinator for OrcaCon; and often speaks on issues of diversity, feminism, race, intersectionality & other topics at conventions. Her writing appears in Uncanny Magazine, Polygon, Vice Gaming, Mic, Waypoint, Wiscon Chronicles, Paste Games and other publications. She's been a Industry Insider at GenCon (2017), Guest of Honor at OrcaCon (2016), and is a partnered variety streamer on Twitch.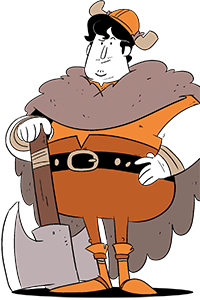 Scott Kurtz
Scott Kurtz is an Eisner and Harvey award-winning cartoonist living in Seattle, Washington. He helped pioneer webcomics with his daily feature, PvP which debuted in May of 1998. Since then Scott has co-authored a book on making webcomics, co-created and produced several animated web-series and launched a second ongoing webcomic, Table Titans.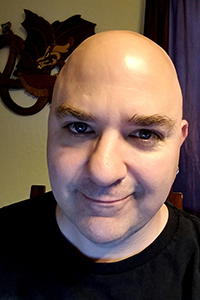 Chris Lindsay
Chris Lindsay began his love affair with Dungeons & Dragons as a wee lad in the early '80s. In 2010 Chris joined the D&D brand team and is currently the product manager for Dungeons & Dragons as well as the head of the D&D Adventurers League and the architect for the Dungeon Masters Guild, and Guild Adept program. Chris has been known to hop in front of a camera now and again, originally for ExtraLife charity events, and more currently on Maze Arcana's Peanut Gallery, and as a Dungeon Master during the Stream of Annihilation. Chris can also be seen handing out DM advice on Geek & Sundry's Epic Homebrews episode of GM Tips with Satine Phoenix.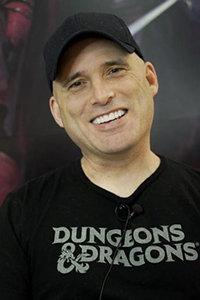 Chris Perkins
Chris Perkins is a 20-year veteran of Wizards of the Coast and principal story designer for Dungeons & Dragons. He has served as editor-in-chief for Dragon, Dungeon, and written numerous D&D articles and books, including most recently Curse of Strahd. He's probably best known as Dungeon Master to Acquisitions Incorporated.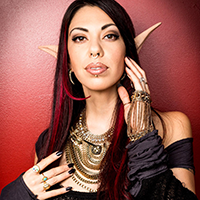 Satine Phoenix
Satine Phoenix is an illustrator, comic book creator and author who spent the last 8 years encouraging the Los Angeles Dungeons & Dragons Community. She began by coordinating weekly D&D games at Meltdown Comics and building meetup.com/LATabletopGamers. She founded CelebrityChariD20.com with Keith Baker for Reach out and Read in 2010. Satine co-created Maze Arcana in 2016 with Ruty Rutenberg as a way to connect with fellow gamers across the world. As Guild Adepts, they create tabletop content & travel the world from game stores to conventions teaching others how to take their games to the next level. You can read about her Gaming Escapades over the years on io9.com, Wired magazine, Maxim and Time Magazine.
In 2017 Satine continued Geek & Sundry's GM Tips, previously hosted by Matthew Mercer. In her new format, she showed their audience the value of learning from one another's experiences by interviewing Game Masters from all walks of life. Other shows she's been on recently are Geek & Sundry's Table Top (hosted by Wil Wheaton) & Projectalpha.com's Sagas of Sundry: Dread (game mastered by Ivan Van Norman).
You can watch her Tuesday nights 6pm PST Dungeon Mastering Sirens of the Realms on twitch.tv/dnd. Sirens of the Realms is about an all-girl bard band on tour through Faerun with special guests. Wednesday nights 7pm PST she plays Rose, an Aundairian Elf lounge singer, in Maze Arcana's Inkwell Society: A Neon Noir Live Play D&D game set in Eberron. Dungeon Mastered by Ruty Rutenberg on twitch.tv/mazearcana.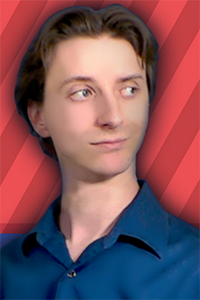 ProJared
ProJared is a reviewer, comedian, gamer with an emphasis on RPGs and retro games—most people have never heard of! Jared is playing Diath Woodrow, a human rogue he's played in several previous campaigns.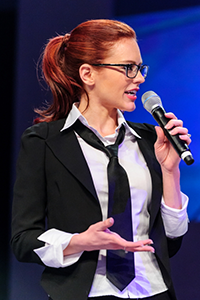 Anna Prosser Robinson
Perhaps most recognizeable as a host and video games media personality, Anna Prosser Robinson works day-to-day as Programming Manager for Twitch. She's also co-founder of Misscliks, an online community dedicated to providing support and exposure for women role models in geek and gaming culture (where she also livestreams weekly D&D games). She has lots of crazy stories, from moving to Dubai on 3 days notice to work as a lifeguard consultant, to being crowned Miss Oregon USA, to managing an esports house for Team Evil Geniuses. Anna is playing Evelyn Marthain, a human paladin of Lathander.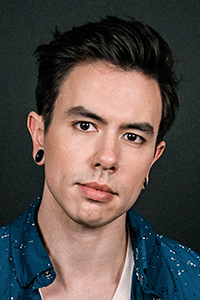 Nathan Sharp
Nathan Sharp is a Korean-American voice actor, musician and songwriter best known for his music-oriented channel, NateWantsToBattle. Covering a wide array of songs, his music portfolio totals up to over 200 compositions and renditions that range from parodies of popular hits to English renditions of anime openings to music about video games and anime to his original album "Sandcastle Kingdoms" released in March 2017 that charted on iTunes #1 Alternative Albums and Billboard's Heatseekers Chart. His channel has amassed over 1.2 million subscribers and 300 million unique video views.
His voice can be heard in Luck & Logic as Yoshichika Tsurugi, Attack on Titan as Marcel, Gapri in Fairy Tail: Dragon Cry, Dream Daddy: A Dad Dating Simulator as Craig Cahn, Shantae: Half Genie Hero as Bolo, Midboss's 2064: Read Only Memories as Chad, Heintz in Atelier Firis, Skip Beat! as Imai, Kieran from the original animated series Indigo Ignited, Pinstripe as George the Dog from Atmos Games, as well as Mobile Suit Gundam: Iron-Blooded Orphans, One Piece, Rurouni Kenshin, Puzzle and Dragons X, Cheer Boys, Disastrous Life of Saiki K, Handa-kun and Endride.
Nate is playing Paultin Seppa, a human bard.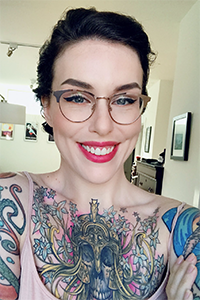 Kate Welch
Kate Welch is the newest game designer on Dungeons & Dragons, a baby wizard if ever there was one. Previously, she worked as a designer for ArenaNet, Double Fine, and Amazon Game Studios. As one of the core members of Acquisitions Inc: The "C" Team, Kate plays the fiery lightfoot halfling monk, Rosie Beestinger.