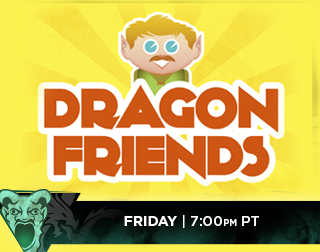 Dungeons & Dragons loves the amazing video streams produced by our fans. This community-generated live-play highlights what's fantastic about D&D—sitting down together with your friends to tell a grand story! To celebrate, we invited a bunch of D&D streamers and luminaries to Seattle, Washington to hang out and roll some dice on June 2-3, 2017!
This two-day event was called the Stream of Annihilation: two full days of streaming that included folks from Acquisitions Incorporated: The "C" Team, Misscliks, Maze Arcana, Critical Role, and Dice, Camera, Action! with Chris Perkins, not to mention international gaming groups like Yogscast's HighRollers (U.K.) and Dragon Friends (Australia).
And even now that the Stream of Annihilation event concluded, we're please to announce that many of these groups will continue to stream their games, as hosted on the D&D Twitch channel.
Watch on Twitch: Date/Times TBD
About Dragon Friends
Dragon Friends is a show where a bunch of idiot Australian comedians muddle their way through a Dungeons & Dragons campaign. They've been doing it for almost two years now and you think they'd be better at it. Featuring David Harmon, Ben Jenkins, Edan Lacey, Simon Greiner, Alex Lee, Michael Hing and an assortment of our friends from comedy and sometimes even the telly. Accompanied with the live music and occasional snide comment by Benny Davis (The Axis of Awesome).
| | |
| --- | --- |
| | David is a writer, director, performer, game designer and the hapless DM of Dragon Friends. He's created theatre and live events of all sizes up to and including 1000-player day-long zombie survival simulators. Currently he works as a producer for Twitch-affiliated projects in Australia and on Throwdown Esports. His garage is a mess but his computer is very fast indeed. |
| | Ben Jenkins is a writer, comedian and TV presenter. He spends a lot of time on Twitter and once annoyed Richard Dawkins. He provides all the many NPC voices on Dragon Friends, provided the voice that you want is mostly Snagglepuss. |
| | Michael Hing is a comedian whose work has appeared on ABC2 and triple j. He has performed sold out stand up shows at the Sydney Comedy Festival, Melbourne International Comedy Festival, and Brisbane Comedy Festival, as well as two disappointing seasons in Adelaide. He is a former host on the ABC's Good Game, and currently is the host of the League of Legends Oceanic Pro League. He's into some pretty deep nerd shit. He plays Freezo in Dragon Friends—a home schooled wizard with intimacy issues that is NOTHING LIKE Hing. |
| | Alex Lee is a comedian, actor, television presenter and journalist and plays the Half Orc Barbarian Philge on Dragon Friends. She is a writer/presenter on ABC TV's The Checkout. Her TV credits include The Chaser's Election Desk, Media Circus and The Roast. She has performed sketch, stand up and improv at the Sydney and Melbourne international comedy festivals. Alex used to be a member of the Federal Parliamentary Press Gallery as political reporter for BuzzFeed and was a producer and newsreader for ABC News. She insists she is a jock and will dak anyone who says otherwise. |
| | Simon Greiner is a performer, improviser and illustrator. He is a two-time Cranston Cup and National Theatresports champion and a member of the faculty at Improv Theatre Sydney. Simon is a regular at Sydney's Giant Dwarf theatre, and has performed in numerous shows at the Melbourne International Comedy Festival, as well as the Adelaide and New York Fringe Festivals. His illustration work has been featured on the front cover of The New Yorker magazine. His character Bobby Pancakes is notable in that he is largely the most sensible of the Dragon Friends. It is not a high bar. |
| | Edan Lacey is an award winning actor, director and improviser. A graduate of the directing program at the Australian Film Television and Radio School (AFTRS), he is co-founder of Improv Theatre Sydney and teaches improvisation for the National Institute of Dramatic Art. A trained actor, he is a graduate of the New Actor's Workshop in New York City, a school founded by legendary director Mike Nichols, George Morrison and improvisation pioneer Paul Sills, and studied clown at Ecole Phillipe Gaulier. Edan is a two-time National Theatresports champion, the creator of two original web-series, and has written, performed and directed shows at The Adelaide Fringe and Melbourne International Comedy Festivals, The Upright Citizen's Brigade in New York City and ImprovOlympic in Chicago. Edan plays Baston, a wholly original and legally distinct character. A level 3 human fighter, he is the handsomest and also the best. |
| | Benny Davis is best known as 'the musical one' from comedy trio The Axis of Awesome. With them he has toured the world, playing sold out shows from London to LA, Sydney to Singapore, and even Klamath Falls, OR. He is surprisingly quite famous in Sweden. He has been on literally heaps of stuff, including YouTube! You may recognize him better as 'the short one' from The Axis of Awesome. He is the Dragon Friends' bard, providing live improvised music to accompany the campaign, and also occasionally interrupting to voice his contempt for the whole thing. |
Stream of Annihilation Game