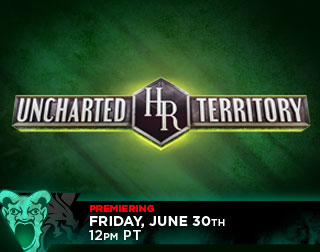 Dungeons & Dragons loves the amazing video streams produced by our fans. This community-generated live-play highlights what's fantastic about D&D—sitting down together with your friends to tell a grand story! To celebrate, we invited a bunch of D&D streamers and luminaries to Seattle, Washington to hang out and roll some dice on June 2-3, 2017!
This two-day event was called the Stream of Annihilation: two full days of streaming that included folks from Acquisitions Incorporated: The "C" Team, Misscliks, Maze Arcana, Critical Role, and Dice, Camera, Action! with Chris Perkins, not to mention international gaming groups like Yogscast's HighRollers (U.K.) and Dragon Friends (Australia).
And even now that the Stream of Annihilation event concluded, we're please to announce that many of these groups will continue to stream their games, as hosted on the D&D Twitch channel.
Watch on Twitch: Fridays 12PM PT
About the HighRollers
The HighRollers are a group of UK-based D&D Streamers, partnered with the YouTube gaming network The Yogscast. The HighRollers gang aim to produce a genuine D&D experience in their streams, something that would feel right at home with any gaming group. The party is a mixed bag of D&D experience, with some having played for years, some completely new, and everything in-between.
The HighRollers
Kim Richards, freelance presenter, writer, YouTuber and Streamer, plays K'ehleyr Ragehorn the Half-Orc Barbarian. But don't let the fact that K'ehleyr tries to charm the pants off everyone or feast on whole hog roasts fool you. Inside her proud heart lies a passion for discovering ancient relics and the secrets of forgotten kingdoms.
Twitter: @nanosounds

Matthew Toffolo is an in-house video editor for the Yogscast and possibly the world's biggest Doctor Who fan. Matt plays Sir Cromsby Regnus Dolnum the Third, Dwarven Bard, socialite, and wheeler-dealer. Sir Cromsby isn't afraid to work with thieves, scoundrels or mad sorcerers if it means he can line his pockets with gold.
Twitter: @batmanmarch

Chris "Trottimus" Trott, one third of the popular YouTuber trio Hat Films, will be playing Six Frisky Flames the Tabaxi Sorcerer. A strange and unusual seeker of forgotten arcane knowledge, especially the history and stories of ancient treasures.
Twitter: @trottimus

Katie Morrison, Talent Manager for Multiplay Events, will be playing the Half-Elf street urchin Fia. A thief and scoundrel who appears to care for coin and not much else. Hired as an "assistant" for Sir Cromsby's nefarious dealings in antiquity, Fia has stolen her fair share of ancient treasures from tombs, palaces, museums and manors.
Twitter: @LittleNommer

Mark "Sherlock" Hulmes, is the Dungeon Master. Mark wanted to bring his own brand of DMing to the Yogscast audience and gathered a plucky bunch of players to run through his own homebrew adventures. HighRollers: Uncharted Territory is his chance to bring his love for pulpy, action/adventure to the gaming table.
Twitter: @sherlock_hulmes
Archive: Stream of Annihilation Game