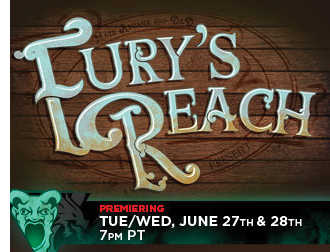 Dungeons & Dragons loves the amazing video streams produced by our fans. This community-generated live-play highlights what's fantastic about D&D—sitting down together with your friends to tell a grand story! To celebrate, we invited a bunch of D&D streamers and luminaries to Seattle, Washington to hang out and roll some dice on June 2-3, 2017!
This two-day event was called the Stream of Annihilation: two full days of streaming that included folks from Acquisitions Incorporated: The "C" Team, Misscliks, Maze Arcana, Critical Role, and Dice, Camera, Action! with Chris Perkins, not to mention international gaming groups like Yogscast's HighRollers (U.K.) and Dragon Friends (Australia).
And even now that the Stream of Annihilation event concluded, we're please to announce that many of these groups will continue to stream their games, as hosted on the D&D Twitch channel.
Watch on Twitch: Tuesdays & Wednesdays 7PM PT
About Maze Arcana
Join Maze Arcana, and their gallery of celebrity friends, as they set sail with Dungeons & Dragons after the same prize in Fury's Reach. Two groups in a shared timeline led by Dungeon Masters Satine Phoenix and Ruty Rutenberg will both be chasing after an artifact to further their own ends. Who will find it first?
Satine Phoenix is Co-Creator of Maze Arcana, Host of GM Tips on Geek & Sundry, Founder of CelebrityChariD20.com & Meetup.com/LATabletopGamers, Co-Author of The Action Heroine's Journey & Co-creator & artist on New Praetorians, Graphic Designer for the Loyal Subjects, Co-Host of Game School Podcast, Jewelry Designer & freelance Illustrator on Burningquill.com, OG Crew of I Hit It with My Axe webseries 2010. You can read about her Gaming Escapades over the years on i09.com, Wired magazine, Maxim & Time Magazine. Artist-Entrepreneur-Entertainer: Satine spends her time surrounded by decadence, doing the things she loves most: Working/Playing D&D with her friends, Illustrating, drinking coffee, working out & traveling to various gaming events around the world with her Maze Arcana Co-Creator, Ruty Rutenberg (@Rutywoot).
Twitter: @SatinePhoenix
Facebook: satinephoenix
Instagram: satinephoenix
Web: mazearcana.com/burningquill.com

*Ruty* - US Army OIF/OEF Veteran, Actor, Writer, Voice Over, and Award Winning Dungeon Master & Creator. Ruty's expertise spans multiple platforms, with work alongside all the major studios on titles such as *Argo, Fury, Finest Hours, Magnificent Seven*, the recently released *Growhouse* by Snoop Dogg & DJ Pooh, and *The Wall* directed by Doug Liman. When not acting, voice acting, or writing for film & television, Ruty is writing content for Dungeons & Dragons, and a host of other RPG publishers and game designers. Somehow, he finds the time to stop for panels on the convention circuit—recently PAX, Gary Con, Emerald City & Los Angeles Comic Cons, Winter Fantasy; you can also catch him next at Gen Con, alongside his Maze Arcana co-creator Satine Phoenix (@SatinePhoenix). When he can, he loves gaming with attendees and is currently planning the future content as Dungeon Master of the amazing Maze Arcana titles, *Orphan Echo, Peanut Gallery*… and even an upcoming Stream of Annihilation. Shhhhh….
Twitter: @RutyWoot
Instagram: RutyWoot
Maze Arcana: The Players
Kyle Vogt is an actor, game designer, writer, and has been playing various RPGs for longer than he cares to admit. You might have seen him in one of the worst movies of all time, "The Room". Carrying an eclectic set of skills from working for NASA to fashion photography to creating crazy new food recipes, he's been known to play any and all kinds of characters. You can see him every week on Maze Arcana: Orphan Echo playing Lucky, the long suffering warforged arcaneer.
Twitter: @kylevogt

Milynn Sarley is an actress, host and Twitch partner known for Guardians of the Galaxy 2, Team Unicorn, How I Met Your Mother, Attack of the Show, and streaming on Twitch. She's a huge fan of puppies, tacos, and travel.
Twitter: @milynnsarley
Twitch: thegamerchick

Cig Neutron is a sculptor, special makeup fx artist, creature fabricator, actor, and Winner of Face Off All Stars. Working in the film industry as a special fx artist, Cig has worked on such films as Tron: Legacy, Suckerpunch, Real Steel, ABC's of Death, and The Death of Superman Lives: What Happened? Cig has also made a name for himself in the lowbrow art scene. His work has been shown in galleries across the country, with private collectors around the world owning pieces. Teaming up with Rannie Rodil the creator of Fanvixens, they created Bizarro Au Go-Go, an outlet for all of their outlandish characters, and off the wall products. Starting out as an art/photography book, Bizarro Au Go-Go has been gaining popularity by bringing it's colorful characters to life via internet video, and convention appearances. Cig currently co-runs TroTron FX, a special fx shop with his bro-mate George Troester.
Twitter: @cigneutron

Ivan Van Norman has made his entire life about 'making things worth participating in' both in front of and behind the camera. The author of the "ABCs of RPGs" children's book, he is a game designer and frequent host on Geek & Sundry. Every day he contributes how he can to better the tabletop community.
Twitter: @Hydra_Lord

Kurt Caceres was born in Napa, California. At a time before computers existed and the only thing available was a pen and paper and some archaic early edition Dungeon & Dragon modules. He started playing in the 70's before most people here were born, but then the heyday of technology hit and for the next 3 decades, he put down the pencils and paper and retired to play MMORPG's on something called a Computer. MazeArcana is his return from a 3 decade retirement. Things have changed drastically and it's been a slow recovery, but like riding a bike, its starting to all come back. Dice. Imagination. Mathematics. Spells. Saves. Role Playing. All words that a mere commoner wouldn't understand, but that those in the right circles, those with a keen sense, will welcome with open arms. A very well known and successful Film and TV actor, odds are you've seen him somewhere at sometime in some form. He brings his methodology to the wonderful world of Dungeons & Dragons, and like Gandalf, Kurt is the old wise man with tales before your time...........he's seen things you could never imagine.......and so it is...........
Twitter: @kurt_carceres

MeowMistiDawn grew up an only child in a video store, which probably started her love of different worlds. Between watching the classics and hours of video games, she used these outlet to visit imaginary lands. Since then, Misti has been featured on G4. You can even play as Misti when playing lead female role Thi Barrett in the remake of Rise of the Triad. Misti also works as a full-time makeup artist for Nerdist and Geek & Sundry. She's been a podcaster for years, formerly co-hosting Bagged and Boarded on Kevin Smith's "Smodco" network and is currently co-hosting Keep Your Shirt On podcast.
Twitter: @meowmistidawn

Grant Imahara is the host of White Rabbit Project on Netflix, former MythBuster and special FX modelmaker.
Twitter: @grantimahara

Kym Jackson is an Australian actress and author of The Hollywood Survival Guide for Actors. Most known for her work on Worry Dolls, Iron Sky, Red Line and Snitch, and CBS hit TV shows Criminal Minds and NCIS: Los Angeles.
Twitter: @aussiegirly

Jon Schnepp is Director of The Death of Superman Lives; What Happened?, Metalocalypse, UCB, ABCsofDeath, Venture Bros, Black Panther, Host & Panelist: ColliderHeroes, MovieTalk.
Twitter: @jonschnepp

Dodger AKA Brooke Lawson is an actress, Youtuber and streamer.
Twitter: @Dexbonus
YouTube: presshearttocontinue
Archive: Stream of Annihilation Game 1
Archive: Stream of Annihilation Game 2