Watch on Twitch: Thursdays 3PM PT
Join live play-through of D&D digital games (including the Baldur's Gate: Enhanced Editions), with Kate Welch. Takes place each Thursdays at 3PM PT on the D&D Twitch channel (twitch.tv/dnd). You can also view past episodes below.
About the Host: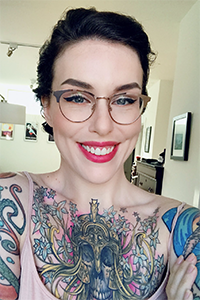 Kate Welch
Kate Welch is the newest game designer on Dungeons & Dragons, a baby wizard if ever there was one. Previously, she worked as a designer for ArenaNet, Double Fine, and Amazon Game Studios. As one of the core members of Acquisitions Inc: The "C" Team, Kate plays the fiery lightfoot halfling monk, Rosie Beestinger.
---